DiCosmo's Italian Ice
In Elizabeth, New Jersey, there is a small Italian Ice stand that has been run by the DiCosmo family for the last 100+ years. This is the only place my family and I enjoy Italian Ice, and we are there at least once a week. Overtime we would go, though, I wouldn't know the flavors until we pulled up and saw the sign. I took it upon myself to create a flavor tracker app that allows DiCosmo's customers to see the flavors that are currently available. I showed my creation to the DiCosmo family and they loved it! They are currently updating the app daily with new flavors!
Available on the App Store: https://itunes.apple.com/us/app/dicosmos-italian-ice/id1031089656?mt=8
4 Digits - Number Guessing Game
4 Digits - Number Guessing Game is my most recent game. The idea for 4 Digits came about when my Computer Science teacher was playing a similar game on the whiteboard with his math class. We realized that everyone really enjoyed playing it and it would make a great app, so I got to work right away! The object of the game is to guess a 4 digit number in less than 10 guesses. Each time you guess, you are told how many numbers are correct and how many are in the correct spot. There are also 2 multiplayer modes that allow you to play either with or against friends. 4 Digits was released just two weeks ago and almost 800 people have already downloaded it. I plan to start marketing the app more actively within the next few days in order to expand the user-base.
Available on the App Store-https://itunes.apple.com/us/app/4-digits-number-guessing-game/id970732315?mt=8
JSA Mobile
JSA Mobile is an app I originally developed for chapters of the JSA organization. JSA is an organization that strives to keep children and teenagers educated and involved with the government. Last year, JSA Mobile was only being used for events and debates at JSA chapters, but this past summer I signed a licensing agreement with the JSA organization that would bring JSA Mobile to conferences and conventions nationwide. I was very excited that my app would be used by so many people across the country, but it also meant that I had a lot of work to do. I brought up my notes from my time at the UI Design Lab at WWDC14 and eventually relaunched JSA Mobile with a completely new UI and data schema. We were able to do a small test at one of JSA's conferences, and the app is now ready to be used at many more!
Available on the App Store-https://itunes.apple.com/us/app/jsa-mobile/id742695895?mt=8
SportlyStats
Sportly Stats is the startup company I am launching with my computer science teacher. Sportly Stats is a comprehensive stat-tracking network that focuses specifically on high school sports - the first of its kind. We make it a point to provide a stat-tracking mobile app to be used by coaches for every single high school sport that exists. As a by-product, Sportly Fans is our school-specific, real-time mobile app where fans and parents can get up to the minute game updates for every game, in one simple feed. We finished the development of the apps late last year and we were able to do a soft launch in our high school with the girls varsity tennis team. We received a lot of feedback that will help us in the further development of all of the apps. As the high school sports seasons are coming to a close, we will be able to take more time to perfect the database and user experience. I am very excited to launch this company because I have learned about so many aspects of development along the way, and I know this is a product people will want to use.
Coming Soon!
A Slice of New York
After being in San Francisco last June for WWDC, I became very close to my dad's college friend who owns two pizzerias in the bay area. He told me that his shops had needs for two mobile apps that would help them run more efficiently. I cannot go into details as the IP is not protected yet. The first is an app that helps the shop manage business requirements needed to run the business safely and effectively (and legally). The second is an app designed for work force organization and optimization, capturing key data for future action.
Pocket Practice
Last year, one of my friends had created an Android app called "Pocket Practice". He said that it allowed people who played an instrument to practice different scales keys. There was one problem, though. Most of the kids in our school had iPhones, so his friends could not make use of the app. He came to me asking if I would make an iPhone version, so I said yes, thinking it would be a pretty cool project to work on, and it was. Pocket Practice is now on the App Store for every instrument player to enjoy!
Available on the App Store-https://itunes.apple.com/us/app/pocket-practice/id919806492?mt=8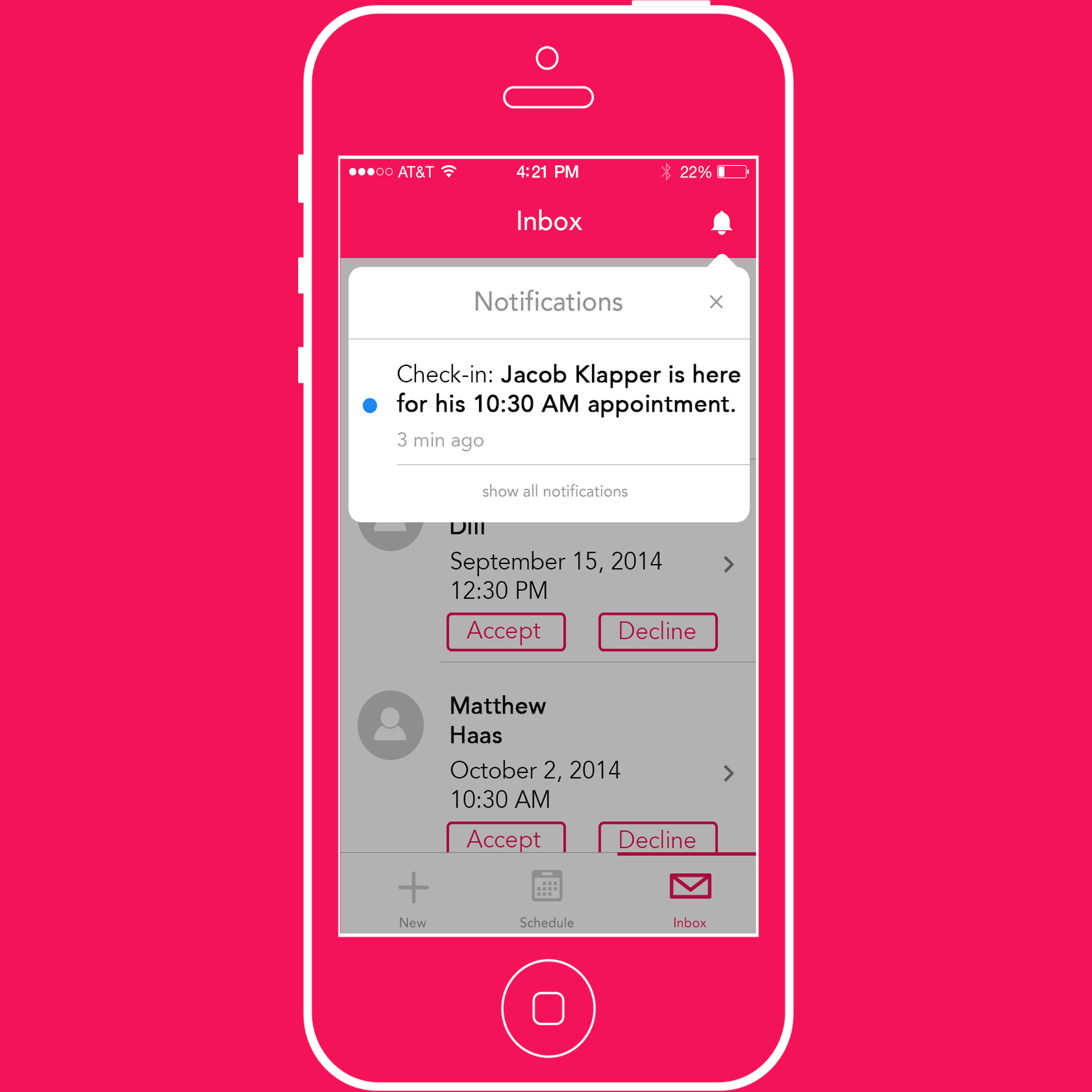 ScheduleMe
In my school, thousands of dollars are spent every year on slips of paper that guidance counselors and students need to fill out to schedule appointments. Counselors also take more than 30 minutes every day filling these slips out, ensuring that the student's schedule will not be interrupted. My new app, ScheduleMe, solves both of these problems by giving both the counselors and students a simple, easy-to-use interface to create and manage these appointments. Counselors and students will be able to send appointment requests, which can then be viewed, confirmed, rescheduled, and/or added to each party's calendar. Push notifications will be sent reminding each person of the appointment, and electronic passes will be generated for students to avoid wasting even more paper for hall passes. A push notification will also be sent to the counselor when the student checks in for their appointment. My hope is to eventually be integrated with systems that help schools manage their students, such as Pearson's PowerSchool platform. With this integration, the app will be able to directly access each student's schedule to make it easier for counselor's to schedule appointments. I have contacted many other schools in my area and have gained some interest for the app, and I plan to keep developing it over the course of my senior year.
Coming Soon!
Apps